Large Fungal Systems: An Interconnected Life
Large fungal systems, such as mycelial networks and fungal colonies, are intricate structures found in diverse ecological settings. They consist of interconnected hyphae that span vast underground areas, facilitating nutrient exchange and connecting different organisms. These systems exhibit remarkable adaptability, thriving in environments ranging from forests to urban areas and playing crucial roles in nutrient cycling, decomposition, and symbiotic relationships with plants.
The Alaskan Network, of unknown size, rarely appears above the permafrost.
Mycelial networks have stood the test of time, silently spreading beneath our feet for countless years. These ancient organisms have woven intricate networks that span vast areas, connecting diverse ecosystems. Their age-old presence reflects their resilience and adaptability, serving as a reminder of the enduring nature of these fungal systems. As we delve deeper into the secrets of their existence, we gain a greater appreciation for the rich history and invaluable contributions of these age-old fungal networks to the functioning and sustainability of our natural world.
Spotlight on Researcher George Yakamoto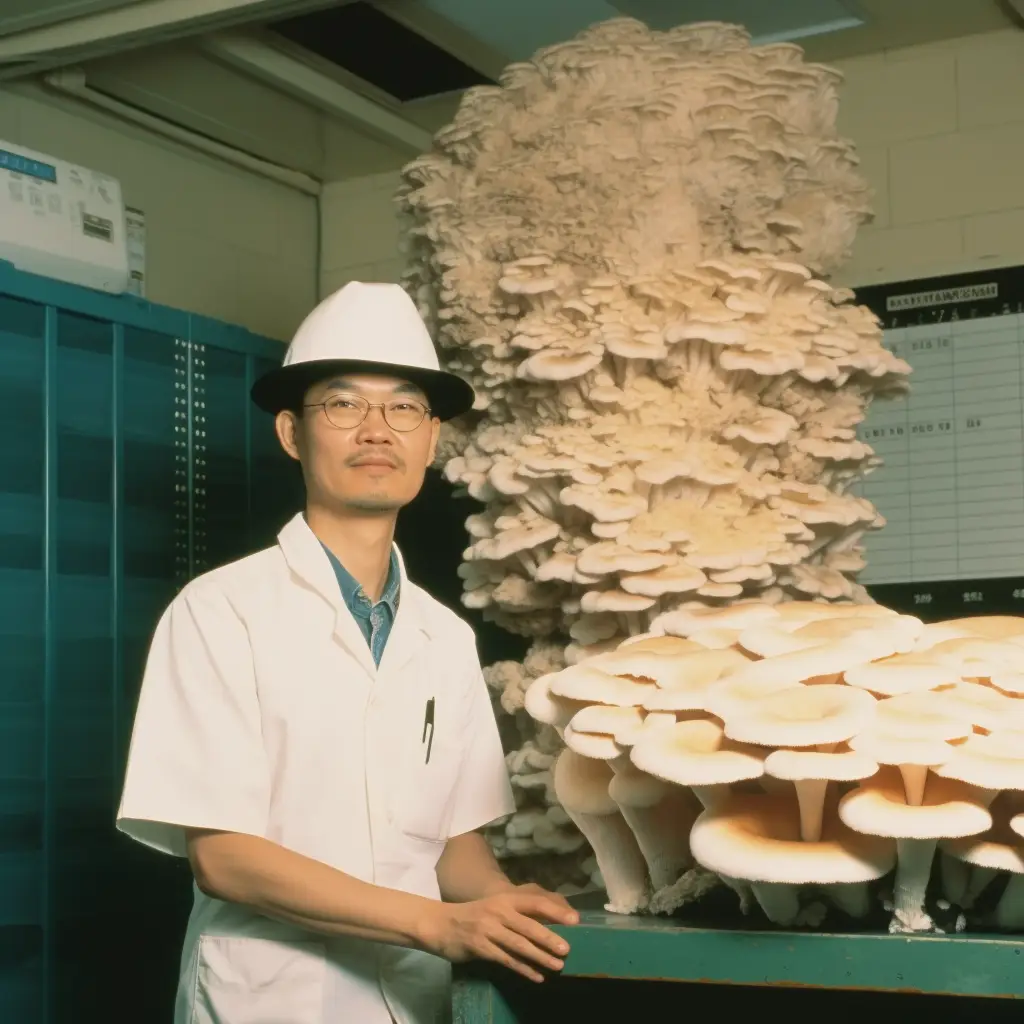 Dr Yakamoto, in 2011, posing with altifungus gigantus.
Dr. George Yakamoto, Senior Researcher at the University of Ohio Extension Experimental Crop Station, is a distinguished specialist in large fungal networks in the Southeastern Ohio Region. With his extensive knowledge and expertise, Dr. Yakamoto has dedicated years of diligent research to unraveling the mysteries of the complex fungal system that resides underneath the woods in Question Mark, Ohio. It is thanks to Dr. Yakamoto's research that we now know that the Armillaria Quaestio is the third largest known mycelial network in the world. It is because of his groundbreaking research that we are proud to award Dr. Yakamoto and the University of Ohio Extension Experimental Crop Station a TFA-IMN Sporestainer for $5,000,000 to continue their important research for the next ten years.
News From Around our "Network"
Evidence of criminal trespass at Michigan's upper peninsula site
A recent report from Dr. Kristin Shaw detail how mycelial poachers have been intruding upon several protected sites in rural Michigan in order to excavate large sections of living fungal material with the intent to distribute as a Schedule 1 substance.
Significant research underway regarding mycelial networks and time
Dr. Audrey Hermosa and Dr. Vance Kelley document how fungi experience "time" in their latest paper, The Mycelial Clock, which they will present at the annual meeting of the American Fungal Scientists Association.